https://www.carpsushibowl.com/
Named after the Hiroshima Toyo Carp of the Nippon Professional Baseball league.
Owner, Yuki, who is a lifelong die-hard Carp fan, was able to combine his love for his beloved hometown team and his passion for delicious food, for this hidden little gem tucked away in a side street of the trendy Mount Pleasant neighborhood in East Vancouver.
I first found Carp through a recommendation from my hairdresser, who asked if I had tried this great new restaurant where they make the most delicious poke, the famous Hawaiian sushi bowl. Obviously, I tried them that same day, then went back with Sayaka later in the week. They have been a favorite of ours ever since we discovered them all those years ago.
Walking through the door, you are greeted by a mini shrine of baseball memorabilia. Above the kitchen is a huge Koinobori, which is a traditional Japanese windsock shaped like a carp and displayed during Tengo no Sekku or Children's Day. Yuki can be seen happily smiling at all the customers from his station in the back, busily mixing fish and his special sauce. Bring up the baseball team and he will tell you about every play from the last game!
The menu is everything you would expect from a sushi restaurant offering up a variety of rolls, bowls, and appies – but make sure to try the Spam Musubi for a Hawaiian throwback, as well as their very healthy variation of Gomae from the appetizer menu. Everything is fresh and the combo deals are worth every penny.
I venture to call Carp Sushi + Bowl a hole in the wall because of the way that sounds, but as Websters define the meaning as "a small and unpretentious out of the way establishment", I think it's as good of a description as any. Go visit Yuki and his staff at Carp Sushi + Bowl. I bet you will be asking for more! - Simon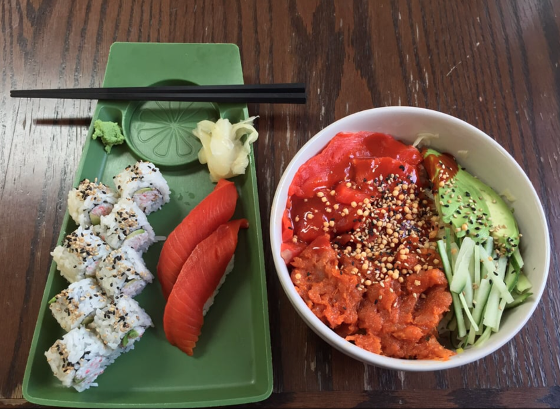 Growing up in a Japanese household, I visit Japan on a year-to-year basis and Carp is what I would like to call a traditional Japanese take-out. Every time I step into the restaurant it reminds me of Japan, the atmosphere, decorations, and owner! The food also hits home. My favourite menu is the spicy salmon poke, which features salmon sashimi on rice and mixed with the spicy Carp original sauce, which is just kanpeki, meaning 'perfect' in Japanese. You are in for a treat and will get to have a taste of Japan here at Carp's Poke! – Kazuya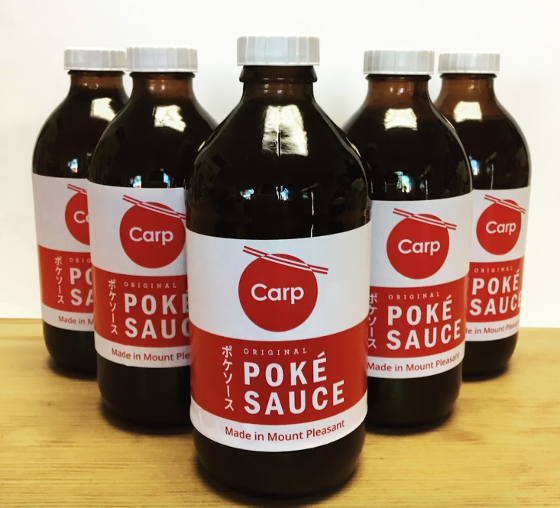 The greatest part about finding a new favorite dining spot, is discovering the heart and history behind it. This has been precisely my experience with getting to know more about Carp Sushi + Bowl and its extremely talented owner, Yuki. The restaurant is certainly best described as a hidden gem, making it an even more special place that we imagine is shared very lovingly by its loyal customers. Upon entry, you are greeted by a cozy atmosphere and very nice seating options, which truly adds to the dining experience. If you want to go for a classic, Carp's Tuna or Salmon Poke Bowl is out-of-this-world good, with both the fish and other toppings perfectly marinated. The special Carp sauce which is the marinade, is what sets Yuki's poke bowls apart from all the others. We cannot say enough good things about Yuki and Carp, nor can we describe over a blog post just how incredibly delicious the sauce and all menu items are. You will simply have to go see – and taste – for yourself!