Location, Location, Location! The location can't get any better than this for Tower 6 at the Amazing Brentwood. The developer Shape Properties touts this project as their most exclusive offering to date and it is hard to dispute the title. Nestled on the elevated northwest corner of the 28-acre development site located on Willingdon Ave and Halifax St, Tower 6 is a 39-storey building with 369 homes ranging from mostly 1–3-bedroom condos and offers unobstructed views to the north, west and east side of the building due to the surrounding low-density neighborhood and the shape of that corner of the site. The cascading terraces on the north side of the building and the arching overpass above the passenger pickup and drop off area gives the exterior an attractive look comparable to other architectural masterpiece in the lower mainland.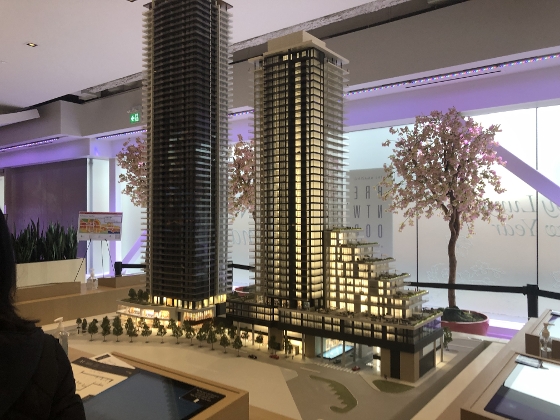 After visiting the staff at the showroom and looking through the list of features, I came up with a list that stood out to me most.
Building Features:
Only one tower neighbors Tower 6 and it will be on the south side of the building
Out of the 5 towers to date, Tower 6 will have the largest and most luxurious lobby
All parking stalls are Level 2 EV ready
4 high speed elevators
18,000 sqft of world class amenities which will include state of the art gym, outdoor space with putting green and bocce play lounge, indoor & outdoor children's play area, and a furnished guest suite among the most notable.
Additional amenities throughout the building include Dog wash station, parcel delivery room, and bike maintenance room as well as concierge and car wash bay.
Unit Features:
9' ceiling height
Pre-built backing for wall mounted tv
Wireless key entry system for all homes
Main bathrooms feature in floor heating system by Nuheat
All bedrooms will have a light fixture instead of switch controlled outlet
Efficient and functional laundry areas with built-in shelving, hanging rod and work surface
Central heat and A/C controlled by smart home thermostats in all homes
Functional kitchen designs with built-in pull-out pantries in some units
But do all these features make Tower 6 a good investment with their starting prices going for around $1000/sqft? You bet it does! For starters, there will be 5 more towers coming up after Tower 6 and each will have a higher starting price. As a reminder, the location is hard to beat with a walkscore of 100 and the proximity to all amenities such as skytrain and bus access, shopping and entertainment, the best food court in town, and the short stroll to schools and parks. As a bonus, Shape Properties has partnered with L Catterton Real Estate to bring the luxury brand portfolio of their fund sponsors Louis Vuitton Moet Hennessy (LVMH) to the mall which will draw attention from big spenders to this special neighborhood in North Burnaby.
For more information, please contact us today!